Today's entry is about stress!
No one can escape from problems and stress, the way to differentiate it is how you handle it.
Basically, stress happen when there are too much demand or burden placed on you.
Hell yeah! an extreme amount of stress can bring to some health consequences.
I also can't escape from stress but here are some tips that I want to share on how I handle stress :)
1. Take a break
What I mean with 'take a break' is get away from the stressor.
If you're getting stress with homework, assignments, projects etc. have a break from it.
Allow yourself to step away from it, maybe around 20 minutes.
Dont take it for DAYS!!! kekekeeke >,<
2. Get social support
CALL / MSG / EMAIL your friends! It is the best heal ever.
Find your close friends and someone who you can trust to tell all your problems and dilemma.
Cheers babe.
3. SHOPPING!!
I would say that shopping is my top 3 favorite things that I would do the most >,<
Sometimes, we're (ladies) just want to look around "Window shopping"
Even though we're not buy anything but walk around for hours is enough for us! haha
However, sometimes i would prefer online shopping!
Here i want to share one of my favorite site for this moment to shop skin care products.
This site sell various kind of things especially for Korean products including skin care, shower, gifts, etc.
So Malaysian, have a look at this website.
Their based is in Malaysia, ok >,<
Let me know what you think of it.
4. Exercise
Remember ladies, exercise to have fun and healthy, not just to lose weight.
But yeah, I sometimes exercise to LOSE WEIGHT!!! kekeke
We have to throw away those perception, alright?
5. Do your best
6. SLEEP: Its important to have enough sleep.
7. SMILE
Whatever you think that can release the tension, just go for it
There's nothing wrong with it.
Another tips from me to release stress is by watching make up tutorial from YouTube.
I love make up because I feels like i'm painting myself into a great art >,<
Do you wonder who is my favorite Beauty Guru in Youtube??
check this out!
" To watch their tutorial, just simply click their NAME that i mention"
1. Michelle Phan
The co-founder for EM Cosmetics, have a look at her make up line website below:
2. Pony Beauty Diary
Seriously girls, you have to watch her tutorial..
A korean talented make up artist >,<
4. Promise Phan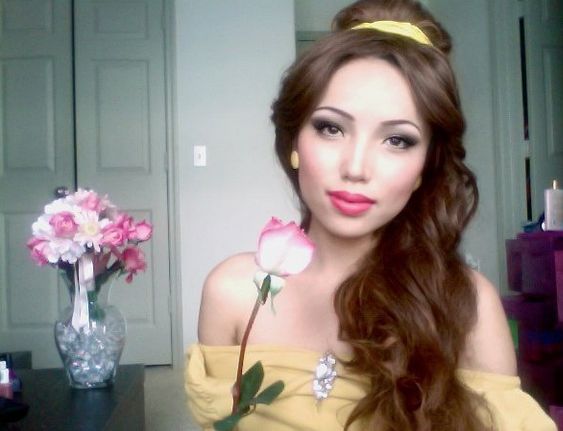 She is one of the most amazing girl.
She can transform herself to anybody.
Watch her epic transformation to Angelina Jollie, Jessica Alba, Disney princess, Johny Dep etc.
5. Raeview
She did an amazing view for make up which can guides you better before purchase it.
However, mostly she did a review for luxury make up brand but you also can have a look for it.
6. Beautifymeeh
A sweet wife and mother that teach you how to do an excellent makeup naturally
Shes a korean girl who lives in USA
Thumbs up her videos.
7. The makeup chair
Another talented girl for doing a great job on make up is Sineady Cady.
You can just simply write "themakeupchair" on youtube to watch her tutorial.
Well, I can list you for another amazing talented Beauty Gurus in youtube
But, i guess these lists are enough for the beginners :)
Let me know if you want to know further about the list.
Happy reading guys.
And find something to release your stress >,<
Bubye....